Chess-themed Ganapati Bappa decoration captures hearts and imaginations on social media
Nashik, India – In a delightful and creative twist on traditional Ganapati Bappa decorations, Indian chess player Vinayak Wadile and his sister Mansi Wadile have taken social media by storm with their innovative theme centred around the "GOD's Chess League." The viral image features Vinayak Wadile engaged in a friendly game of chess with Lord Ganesha, and it has captured the imagination of people across the nation.
Unique and Creative Decoration
Vinayak and Mansi Wadile's Ganapati Bappa decoration this year has been nothing short of extraordinary. They chose to create a theme inspired by a celestial chess tournament where Lord Shiva took on the role of the tournament's organiser, Lord Vishnu assumed the role of arbiter, Lord Krishna acted as the coach, and Lord Vithu Mauli was lovingly portrayed as the parent. This imaginative concept has left everyone in awe of their creativity and devotion.
Internet Sensation
The image of Lord Ganesha and Vinayak Wadile engrossed in a chess match quickly went viral on social media platforms. Netizens from all walks of life have showered praise on the Wadile siblings for their unique and innovative approach to Ganapati Bappa's decoration. The concept of the "GOD's Chess League" has struck a chord with people who admire the fusion of spirituality and chess, two important aspects of Vinayak Wadile's life.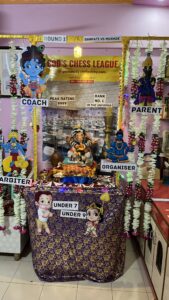 Vinayak Wadile: A Renowned Chess Player
Vinayak Wadile, a well-known name in the Indian chess community, considers himself fortunate to have the opportunity to decorate a Ganapati idol that aligns so perfectly with his passion for chess. His dedication to the game and his artistic expression through this decoration have brought him widespread recognition and appreciation.
A Perfect Combination
The amalgamation of Vinayak Wadile's chess expertise and his devotion to Lord Ganesha playing chess has indeed turned heads and warmed hearts across India. As the image continues to spread across social media, it serves as a reminder of the diverse ways in which people celebrate their faith and interests.
Vinayak Wadile's creative Ganapati Bappa decoration has added a unique and inspiring chapter to the festive celebrations this year, reminding everyone that innovation knows no bounds when it comes to expressing devotion and passion.