PVC laminates have become increasingly popular in interior design and furniture manufacturing. These laminates offer many features and benefits, making them perfect for residential and commercial applications. So, this article will explore the different characteristics of PVC laminates, including their composition, durability, design options, maintenance requirements, and environmental impact. This will help you with having a comprehensive understanding of these laminates and why they are a fantastic choice for your next interior design project or furniture upgrade.
Listed below is the point that will help you to understand these laminates: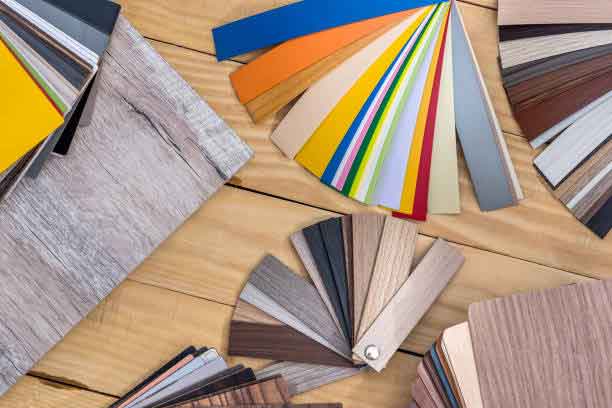 Composition and Construction
Due to its versatility and durability, these laminates are made from polyvinyl chloride, a synthetic resin widely used in various industries. The laminates consist of several layers bonded together through a high-pressure lamination process. The topmost layer is a transparent wear layer that protects the laminate from scratches, stains, and fading caused by exposure to sunlight. Beneath the wear layer, a decorative layer can mimic the appearance of various materials such as wood, stone, or metal. The core layer is made up of high-density fiberboard (HDF) or particleboard, providing strength and stability to the laminate.
Durability and Resistance
One of the critical advantages of PVC laminates is their exceptional durability. The wear layer on the surface protects the laminate from daily wear and tear, making it highly resistant to scratches, scuffs, and impact. This makes these laminates an excellent choice for high-traffic areas such as kitchens, offices, and retail spaces. Additionally, these laminates are moisture-resistant, making them suitable for humid environments such as bathrooms and laundry rooms. They are resistant to stains, making them easy to clean and maintain. With proper care, these laminates can retain their appearance and functionality for many years.
Design Versatility
Vinyl laminates offer an extensive range of design options, allowing you to achieve the desired aesthetic for your space. The decorative layer of these laminates can replicate natural materials' texture, colour, and pattern with remarkable accuracy. Whether you prefer the warm tones of wood, the elegance of marble, or the sleekness of metal, these laminates can provide the look you desire without the high cost and maintenance requirements of natural materials. Furthermore, these laminates come in various finishes, including glossy, matte, and textured, allowing you to customise your furniture or interiors' visual and tactile experience.
Low Maintenance Requirements
One of the significant advantages of these aminates is their low maintenance requirements. Unlike natural materials such as wood or stone, PVC laminates do not require regular polishing, sealing, or refinishing. Cleaning these laminates is a breeze – a simple wipe with a damp cloth or mild detergent is usually sufficient to remove any dirt or stains. The stain-resistant properties of these laminates ensure that spills and messes are easily wiped without leaving any lasting marks. This makes these laminates an excellent choice for busy households or commercial spaces where time and effort spent on maintenance must be minimised.
Environmental Considerations
Environmental consciousness has become increasingly important in design and construction in recent years. When considering these laminates from a sustainability perspective, they offer several environmentally friendly features that make them a sustainable choice. Firstly, these laminates, found in the PVC laminates catalogue, are recyclable, allowing for their reuse or repurposing at the end of their lifecycle. This recyclability reduces waste and contributes to a more circular economy. Secondly, producing these laminates consumes less energy and water than natural materials, which further reduces their environmental impact.
Read More: 5 Advantages of Enrolling Your Child in an International School in Bangalore for a Global Education
PVC laminates are versatile and durable for interior design and furniture applications. With their composition, construction, and exceptional features, these laminates offer numerous benefits that make them highly desirable in residential and commercial settings.