Lexicon Management Institute of Leadership and Excellence in collaboration with the renowned global information company Wolters Kluwer, recently hosted a 'Leadership Conclave – Building Day Zero Professionals' at the Lexicon MILE, Wagholi campus. This conclave aimed to build Day Zero Professionals and inspire students to sharpen their skills and hone their talents which are essential to thrive as successful future professionals in the corporate world. The Leadership Conclave witnessed the presence of esteemed professionals who shared industry insights, personal experiences and anecdotes with students.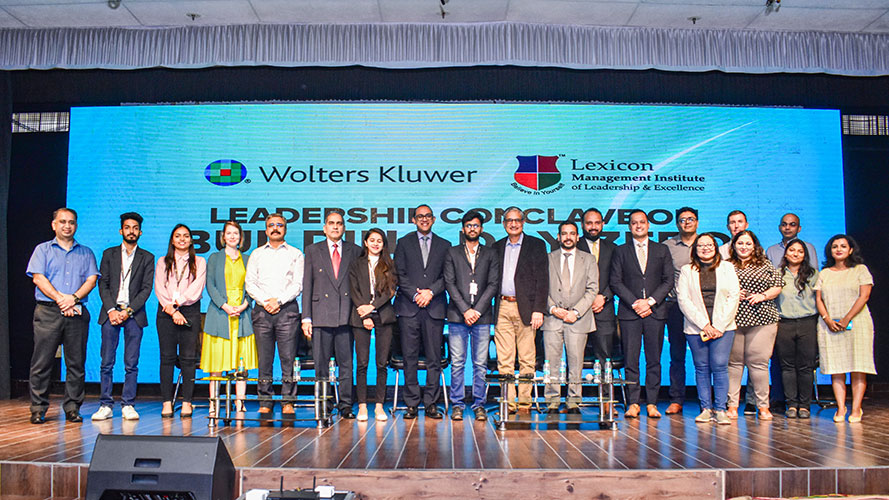 Lexicon MILE's approach to building exclusivity in students through robust evaluation methods, innovative induction practices, motivational workshops and conclaves gives them a hands-on learning experience, preparing them to be industry-ready through such academic and extra-curricular exposures. "At Lexicon MILE, we believe in preparing students to be industry-ready and ensure their 360° development through our holistic approach to education. We strive to equip them with the right set of skills, which enable them to adapt and thrive in the face of real-world challenges and events, while also emphasizing the importance of professional values and ethics in achieving sustainable success. The Leadership Conclave inspires a managerial mindset in our students which is an essential part of transforming into Day Zero Professionals. We look forward to hosting many such events in the future", said Mr. Nasir Shaikh, Group CEO, The Lexicon Group of Institutes, MultiFit & EduCrack. Panel members for The Leadership Conclave consisted of acclaimed personalities which included, Dr. Sandeep Sacheti, EVP, Customer Information Management & Operational Excellence, Wolters Kluwer Governance, Risk & Compliance, Dr. Parag Kalkar, Dean, Faculty of Commerce and Management, Savitribai Phule Pune University, Dr. Devidas Golhar, Principal, MMCC member, NEP Task Force, Govt. of Maharashtra, Mr. Ajit Thatte, Visiting Faculty at Business Schools, Mr. Nasir Shaikh, Group CEO, The Lexicon Group of Institutes, MultiFit & EduCrack, and was moderated by Mr. Anup Sheth, Director-Placements and Corporate Connect, Lexicon MILE. In the opening address, Dr. Sacheti shared valuable insights and anecdotes from his personal life. He also spoke about the importance of recognizing one's strengths and leveraging them to succeed professionally.
The robust panel discussions touched upon crucial topics such as the importance of budding professionals adopting a manager mindset even before they step into the corporate world, promoting unconventional thinking among students, self-nurturing curiosity, and enhanced teaching pedagogy."It was an absolute pleasure to have had the opportunity to interact with the students at Lexicon MILE. Sharing experiences from my professional journey with these ambitious and determined students is an absolute joy. The students displayed a great eagerness and that is what made this conclave interesting. I wish them all the success for their future endeavours and look forward to visiting the campus in the future for many such events", said, Dr. Sandeep Sacheti, EVP, Customer Information Management & Operational Excellence, Wolters Kluwer Governance, Risk & Compliance.
"This Leadership Conclave is one among the many unique initiatives undertaken by Lexicon MILE, and I am grateful for this opportunity to learn from the experience of business leaders and understand their thought processes. Among my many takeaways from the interactions, the importance of Business Ethics, Curiosity, and Self-Belief in an individual's success is most invaluable." said, Ms. Trupti Gupta, a student at Lexicon MILE. The conclave was a great learning opportunity for the students as it also focused on the role of higher education institutions in igniting the spirit of innovation and creativity among students. Thus enabling and empowering them to reimagine, reinvent and excel at what lies ahead of them. Sharing his experience of the conclave, Varun Singh, a student at the Lexicon MILE, said, "It was a fantastic experience, especially since we got to interact with industry leaders. It gave us insights into how we should adapt our mindset to be in step with the rapidly changing world. One of my key learnings is the significance of investing in ourselves and how having a broader professional perspective and a wide range of skills with domain expertise is the key to sustainable professional success."
Read More: Cool Sculpting Treatment in India: Know The Benefits and Process
"The Leadership Conclave was an invaluable learning opportunity for me and being able to interact with such eminent industry leaders, there were many takeaways for me. Some vital ones that made an impact on my perspective as a future professional and leader are the importance of acquiring key job-specific skills and mastering them, the significance of having a supportive and excellent mentor. And the last one would be, the importance of a positive mindset which will help me turn obstacles into opportunities." said, Pratik Darandale, a student at the Lexicon MILE. Lexicon MILE encourages students to participate in several academic and extra-curricular activities, which will help them soar high in their professional journey. The Leadership Conclave certainly helped them sharpen their skills and succeed in the future as Day Zero Professionals.