Sincere technological improvements have led to a boom in businesses and organisations. Finance is one of the departments that has benefited from these technological improvements. Businesses gain enormous advantages when more modern methods for creating thorough financial models emerge. Given the situation, financial modelling has evolved into one of the core competencies for the finance division.This post is for you if you are one of those people looking to upgrade your talents in the field of finance. Learn more about the best financial modelling programmes in India by reading on.
"Prediction is very difficult, especially if it's about the future." – Niels Bohr
The art and science of developing financial models are referred to as financial modelling. It may involve developing new financial models from scratch or updating the ones that already exist to incorporate fresh data.The financial sector is booming. Given that, maintaining compliance with the latest technologies used in financial modelling is essential for the efficient operation of business.
Financial modelling, as you are aware, enables you to foresee and predict business performance and aid in decision-making. As a result, firms are vying for qualified finance professionals with expertise in it. However, the number of experts in it does not match up to the demand. As a result, financial modelling expertise is now highly sought after in the financial industry.
If you are proficient in financial structuring and statements, you may monitor a variety of business metrics, including sales, ratios, growth, and revenue. Furthermore, financial planning abilities become even more crucial as you move up the ladder of finance employment.
For those who are at any point of their financial careers or those who desire to pursue a job in the high-income finance sector, best financial modelling courses are offered in India.
Scope of Financial Modeling 
As more and more businesses rely on well-structured financial models to forecast their economic future, the scope of it is expanding daily.A financial modelling curriculum can help you get qualified by giving you a thorough understanding of the market and how financial models work. By offering pertinent and thorough information about the sector, it enables you to stand out from the competition.
Financial modelling services assist firms efficiently comprehend and make sense of data, enabling them to make better decisions. The specialists can find work with research companies, credit rating agencies, banks & financial institutions, and insurance companies, among other places. Given how important data is to today's corporate environment, financial modelling experts are in demand in most industries.
Careers you can consider after completing a course in Financial Modeling
Participants in the course or programme would be better equipped to advance their careers in the following areas after completing it.
Investment Banking
Private Equity
Hedge Funds
Equity Research (Buy-Side and Sell-Side)
Asset Management
Corporate Finance and Strategy
Private Wealth Management
1. Investment banking: Given that investing has developed into a significant aspect of modern life, you can pursue a career as a qualified analyst in the investment banking industry. Additionally, compared to other financial career prospects, the pay for these financial modelling jobs is better.
Additionally, you may develop sophisticated Excel models for major public organisations, governments, and private businesses. Utilizing Excel models to value firms for advising mandates and mergers and acquisitions is made easier by this financial modelling job.
2. Equity research analyst: You will undoubtedly find an analyst position if you look for financial modelling job vacancies. Because the position requires the individual to create financial models for companies, it is a difficult career option. Equity research analysts produce research reports, suggestions, and projections about companies and stocks for both buy-side and sell-side companies in the securities sector.
The investment managers of a buy-side company, such as a wealth management firm, hedge fund, or pension fund, typically get data and recommendations from equities research analysts. After that, they choose which stocks to own while managing the client's investment portfolios.
3. Real estate financial modeling:It will be your responsibility as a real estate developer to establish intricate financial models that determine how successful the real estate project will be. You examine a property from the perspective of a Debt Investor (lender) or Equity Investor in real estate financial modelling (REFM) (owner).Considering the risks and potential rewards, you next decide whether the equity or debt investor should invest in it. As a senior or junior real estate developer, the most important thing you should know is that you need to grasp real estate statement models.
4. Financial planning and analysis:These days, there is an increasing demand for Financial jobs for freshmen that involve financial planning and analysis. Every operational company, as we all know, has a department referred to as FP&A. Four tasks that support an organization's financial health make up financial planning and analysis (FP&A): integrated financial planningand budgeting, forecasting, and modelling, and management and performance reporting.
Delivering accurate, timely financial analysis and direction to the organization's leaders is the responsibility of financial planning and analysis (FP&A) experts. It is one of the few really challenging  Jobs where a candidate has the chance to assess an organization's performance and contribute to its growth.
5. Corporate Finance:Corporate finance refers to the activities and business dealings related to acquiring capital to establish, expand, and buy a company. Decisions made in business that affect finances or money are directly tied to it. You may think of it as the organization's interface to the capital market. Large organisations frequently benefit from the corporate finance team's execution of acquisitions, mergers, and capital raises. Investment bankers advise the corporate finance team on transactions like mergers and acquisitions, divestitures, restructuring, asset purchases, and project financing.
6. Credit Analyst:Working as a credit analyst for credit rating agencies, restructuring a department inside a company, and determining the circumstances under which liquidity, credibility, and debt service are relevant are all examples of financial modelling jobs. To determine the potential hazards for lenders and investors, they research investments and borrowers' creditworthiness.When investigating the financial history of a potential borrower, credit analysts look at financial documents and use ratios. The position may be satisfying and train you to work as a skilled credit analyst in a particular sector or area.
7. Financial Analyst:Financial analysts and managers are frequently advertised as job candidates in Financial Modeling Job Description. The term "financial analyst" is a general one without a specific use or field. Banks, insurance firms, pension funds, and other enterprises employ financial analysts. Financial analysts assist businesses and people in making decisions about how to spend money to turn a profit. They assess the performance of various investment categories, such as stocks and bonds.
8. Financial projections for start-ups:The future behaviour of any entrepreneur with a start-up must be predicted by start-up finance models. The CFO, the company's founder, or the person in control of the financial department will be tasked with doing cash flow valuation in this case. A financial forecasts template can also be used to determine start-up costs, payroll costs, balance sheets, cash flow, and other things.
Given below are the Best Online Financial Modeling Courses in India of 2022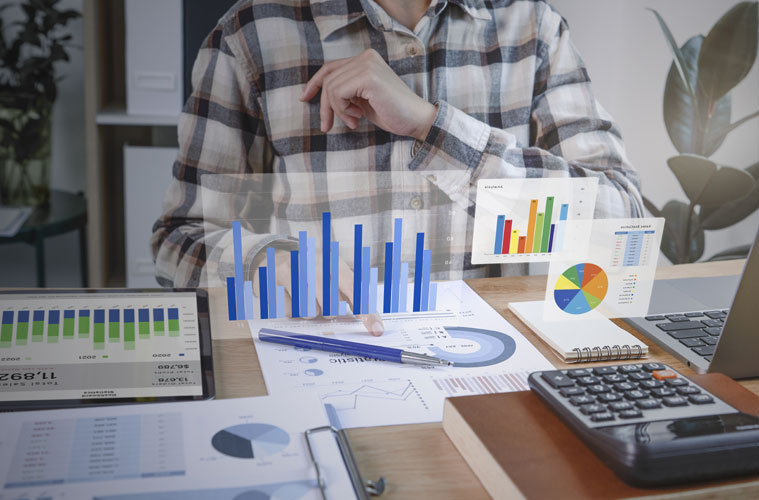 IIM SKILLS
This brilliant institute is famed for the many educational courses they offer. The financial modeling course spans across 3 months and includes an assured internship to enable students to work around real -world finance situations. Students also enjoy the benefit of an immensely supportive placement cell. Another finance course worth looking at by IIM Skills is their Business Accounting and Taxation course.
The theory and practical components of these professional courses are combined. IIM Skills' career-focused programmes are applicable to industry. The curriculum for these educational programmes was developed after a thorough investigation to help students upskill with the greatest education possible.
IIM Skills grants a learner a globally recognised certification upon completion of the study programme. Additionally, it provides lifetime access to recordings and reference materials via a Learning Management System that is consistently updated.
The curriculum of the course introduces students to sophisticated business tools including advanced PowerPoint and Excel. Graduates and students of the CA, CFA, FRM, MBA, finance professionals, and those pursuing technical degrees like B. Tech and Engineering can all benefit from the educational programme.
The following are some benefits of learningfrom this institute :
Enhanced and detailed knowledge of a Business
Regular review of the performance
Choose the fund requirement and strategy
Business valuation
Risk minimization
Financial Models yield quick outputs
Much precise financial budgets and forecasts
Helps in the growth of business
IMS Proschool
IMS Proschool's Financial Modeling course focuses on developing students' abilities in project finance, financial statement analysis, excel, and equity modelling. The institute offers the programme using a case study-based approach, ensuring that students are prepared for the workforce right away.
Using Level 1 of the CFA curriculum, Proschool's Financial Modeling course enables you to review accounting and finance principles. Additionally, it offers VBA-Macros and Merger and Acquisition coaching and certification (M&A). The training also equips you for jobs in credit research, project finance, equity research, investment banking, FP&A, etc.
Edu Pristine
Students who enrol in EduPristine's Financial Modeling programme learn how to create the financial models that businesses use for tracking performance, risk analysis, forecasting, budgeting, appraisal, etc. Excel will be used to teach students how to build simple and intricate financial models. Candidate comprehension of the relevance of the concepts will be aided by thorough preparation using case studies.
The course was developed by Edu Pristine and the BSE Institute Ltd. Some important aspects of the educational programme include instruction from subject matter specialists, devoted discussion forums, frequent job updates, workshops on interview skills, help with resume preparation, and placement support.
Conclusion
A profession in financial modelling enables one to contribute to the company's quick growth. The curriculum of the course also strengthens a person's capacity to analyse financial statements. Don't put off improving your skills and taking advantage of the next opportunity by choosing to enrol in any one the best online financial courses in India.